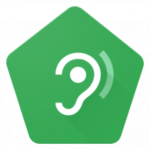 Sound Amplifier
2.0.259284229
Google LLC
Last Updated :
11 month ago
Package :
com.google.android.accessibility.soundamplifier
Size of APK :
2.05MB
Version :
2.0.259284229
Total Install :
1269
What is Sound Amplifier?
Sound Amplifier is a free Communication App developed by Google LLC for Android OS. The latest version of Sound Amplifier APK is 2.0.259284229 which is updated 11 month ago at Android App store. This APK provides best Communication service for Android users. Best alternative Communication Apps are UC Turbo, UC Mini, Voter Helpline, UC Browser, Orbot VPN, Dolphin Browser, etc.
This APK Package com.google.android.accessibility.soundamplifier has been installed more than 1269 times from our App Store. Sound Amplifier - Google is rated 7 out of 10 by our Android Application editors. Download Safe and Secure from APKProZ. Please share your feedback after downloading this App. Download more useful and interesting Communication Apps for your Android device.
Read More ...
This APK works in USA, UK, Canada, India, China, Indonesia, Vietnam, Mexico, Brazil, Nrtherlands, Malaysia, Philippines, Italy, Germany, Pakistan, Egypt, Bangladesh, Argentina, Myanmar, Turkey and Algeria etc Countries. If you are facing any issue with Sound Amplifier in your country install any VPN APK Apps on your Android phone. We are providing all pureapk Apps which are safe from virus and malware to download on Android phone. You can Download APK for PC/Laptop(MAC/Windows) by using any Android Emulator Software free. Please provide the feedback and suggestion on our support section.
Filter, augment and amplify the sounds in your environment.
To start using Sound Amplifier, plug in wired headphones (required) then go to Settings > Accessibility > Sound Amplifier.
Sound Amplifier enhances audio from your Android device using headphones to provide a more comfortable and natural listening experience. Use Sound Amplifier on your Android device to filter, augment and amplify sound in your environment. With Sound Amplifier, audio is clearer and easier to hear. It works by increasing quiet sounds while not over-boosting loud sounds. With 2 simple sliders, you can quickly customise sound enhancement settings and apply noise reduction to minimise distracting background noise.
Features
• Boost quiet and reduce loud sounds around you.
• Carry on conversations in loud environments by boosting quiet sounds.
• Personalise your listening experience by adjusting audio or microphone settings with the simple tuning UI.
• Reduce unwanted or distracting noises.
Once you've tuned Sound Amplifier to a setting that you like, you can toggle it on and off using the Accessibility Button.
Permissions Notice
• Phone: Needed to know the phone state to pause Sound Amplifier when there's an incoming or outgoing call.
• Microphone: Needed for real-time audio processing.
New Features
Initial public launch.